Section 1 (General):
Coaches must either have an E-Mail address on file or have an account on the Weekend Warriors (SimNation) forums. (Both methods are preferred) All league announcements will be sent via email (unless otherwise requested) and posted on the forum.

Coaches must own a copy of Grey Dog Software's Bowl Bound College Football.
Section 2 (Sims and Exports):
Regular season sims will be held three times weekly on Tuesday, Thursday, and Saturday. Exports will be due on those days at 8:00PM EST. Exports are uploaded with the online utility here: http://www.wwcf.us/upload.php

If you are going to miss multiple sims in a row, please post in the 'Vacation' portion of the forums. Inactivity will be monitored and taken into account during coaching changes. If you do not export in more than 30 days without notice, you will be removed from your team.

During the off-season, sims may be more frequent and not on the normal days in order to expedite things. The off-season weeks do not take as much time as some of the others.
Section 3 (Coaching Changes):
The majority of coaching changes will take effect in the off-season. There will be some instances when a high profile team becomes available and an exception will be made.

League seniority will be taken into account, but will NOT be the deciding factor on who gets hired. League activity which includes exporting and forum activity will be major factors in who gets chosen for the new team.
Section 4 (Scheduling):
Each team is expected to play a minimum of 11 games and no more than 12. The BBCF software automatically schedules your conference games.

Out of conference games are scheduled between you and your fellow coaches on the forums. When both parties agree to a certain week and location, you should post the deal in the specified portion of the forum. Ample time will be given to hammer out scheduling deals.

All games agreed upon must also be entered into the game by both parties or they will not take. Otherwise I have to manually schedule them in the final week going by your posts in the forum.

Home / Home scheduling agreements can NOT be entered in the game as they will not save for the following year. Only enter the game for the current year. Both parties should then post both games in the specified forums so we can keep track of it. ** NOTE: This will be updated with more detail once the forums are laid out. **

If you would like to schedule a game with a CPU team, you may do so.

If you are having trouble filling your schedule and CPU teams won't play you, these game will be manually entered in the final week on a first come first served basis.
Section 5 (Game Play):
The league file can be downloaded from the link on the front page of the website: http://www.wwcf.us

Your in-game password can be set to whatever you would like.

Once your changes are made and saved, you hit the 'Online' button to the right. Then the 'Export Coach File' link can be hit which creates your .coa file to upload.

Your .coa file that the game generates can be found in: C:\Program Files\GDS\Bowl Bound College Football\multiplayer\WWCF

Upload your file by going to the upload utility: http://www.wwcf.us/upload.php From there you select your .coa file generated by the game.

Enter 'WWCF' for the League ID.

The password will be given to you when you join.

Click upload!
Section 6 (Coaching Multiple Teams):
Coaches may coach up to three teams under the following guidelines:

1) The second (or third) team must reside in a different conference than the primary (or secondary) team.
2) The second (or third) team must reside in a different recruiting region than the primary (or secondary) team, except where there is more than a 40 prestige points difference between the teams. When this exists the recruiting region can be waived. A coach may not have three teams in the same recruiting region.
3) THIRD TEAM ONLY: The third team must have a prestige less than 40.
4) Coaches are not required to give up their second team, except when the second team exists in the same recruiting region as their primary team (see rule #2). When this exists, the secondary team will have to be relinquished when that teams hits a prestige of 60 or higher.
5) Coaches with a third team will be required to give up that third team if a new owner requests that team as their primary team; or when that team hits a prestige of 60 or higher.
6) The second (or third) team must be controlled to the best of your ability and without the primary (or secondary) team in mind.
5) The primary, secondary, or third teams may never intentionally play each other. If by chance they get matched up in the playoffs or a bowl, the secondary (or third) team will be placed on CPU.
For reference, below is the recruiting region map: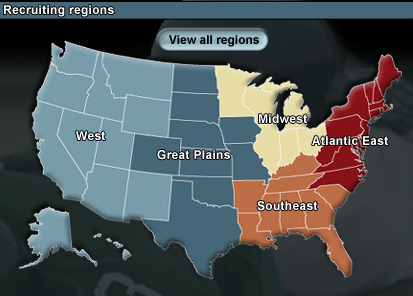 If you would like to join Weekend Warriors College Football, you can either fill out the Join Form or PM 'darrenzen' or 'ragincajun' at the SimNation Forums.