WWCF Unveils 2016 Realignment
The WWCF is entering its 17th season of play and the league continues to evolve. The rumor mill has been going crazy and it appeared that the Big East was going to be dissolved. It is now official, the Big East has been saved! The Big East will remain an upper tier conference and be unchanged in the coming season. There will however be a structural change in the WWCF this coming season.

The twelve conference names will remain unchanged but we will try to follow a tiered system for further conference movement. The MAC, Mountain West and Sun Belt will make up the mid-major conferences. Conference USA will be a national transitional conference to the Super Six conferences. The Super Six will be made up of the ACC, Big East, Big Ten, Big 12, SEC and PAC 12. Teams who excel in the Mid-Majors can now be rewarded with a move up to ultimately attempt to transition into a major conference. Likewise, teams who need help can be moved from a major conference down to either C-USA or one of the Mid Majors. This will also make for a very competitive Conference USA.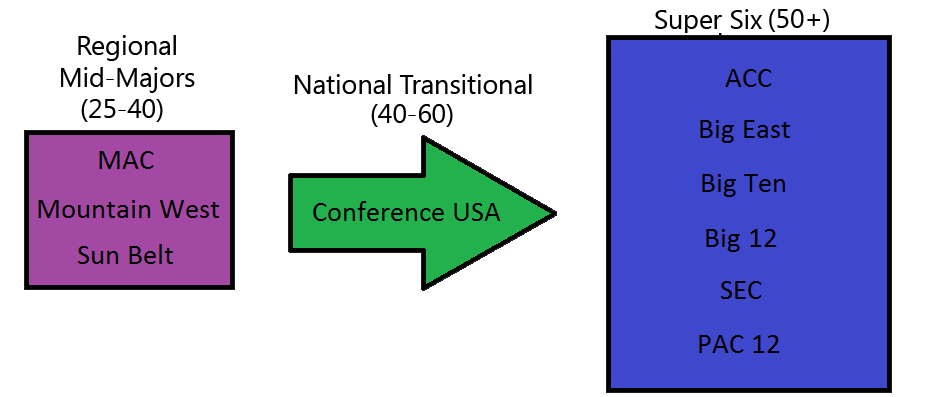 To achieve this plan, the following teams will be changing conferences:
Duke will be moving from C-USA to the MAC.
Ohio will be moving from the MAC to C-USA.
Arkansas State will be moving to the East Division of C-USA.
Memphis, Tulane and Tulsa will all be moving from C-USA to the Sun Belt.
San Diego State, San Jose State and Fresno State will all be moving from the MWC to C-USA.
New Mexico State, New Mexico and UTEP will all be moving from the Sun Belt to the MWC.

There will also be two divisional moves in the Super Six to maintain a little balance:
Oklahoma will move to the Big 12 North and Missouri will move to the South.
Michigan State will move to the Big Ten East and Indiana will move to the West.

With all these moves, there will remain teams that need to be moved down from the Super Six. These moves will be addressed as teams become eligible to make the jump from C-USA to a major conference.